Curriculum
THE NATIONAL CURRICULUM
The Government released a new national Curriculum which was implemented from 1st September 2014. The national curriculum provides pupils with an introduction to the essential knowledge and skills they need to be educated citizens.
Compulsory national curriculum subjects at primary school are:-
English
maths
science
design and technology
history
geography
art and design
music
physical education (PE), including swimming
computing
ancient and modern foreign languages (at key stage 2)
relationships and health education
religious education (RE)
For further information click on the link below.
For more information on our school curriculum, please click on the relevant subjects on this page.
Curriculum Statement
At Burnt Tree Primary we aim to teach a broad and balanced curriculum which promotes spiritual, moral and cultural development of pupils and prepares them for opportunities, responsibilities and experiences of life. As a school we place great importance on pupils being active participants in their learning and work together with parents and the community to ensure that our pupils become successful learners and responsible citizens of their community. We fully develop pupils' essential skills in English, Maths, Science and Computing. In addition to this we provide many opportunities for pupils to develop their skills in Art, DT, Music, PE, SMSC, French, RE, Geography and History. We pride ourselves in giving a wide range of real and relevant learning experiences through a broad, balanced, enriched and differentiated curriculum.
Burnt Tree Primary is an inclusive school, we have a highly skilled team that provides a wide range of opportunities for all children. Our teachers, SENCO, Family Support Worker, LSP's and 1:1 members of support staff work closely with the Senior Leadership Team to provide additional support to both pupils and parents. We identify and support pupils who require extra support in a range of different ways including: observations, discussions and on-going assessments. In consultation with parents, we may set up Provision Maps which provide specific targets for a child's personal development. We also seek support from various outside agencies when appropriate.
Burnt Tree Curriculum Drivers
Our bespoke curriculum is designed around a number of themes which encompass the key skills we wish to develop in our pupils; these are called 'drivers' as they drive the planning and implementation of our curriculum so that the children's success is at the heart of all that we do. As a school, we have identified six key areas that will act as the drivers for our curriculum. These have been selected through consultation with all staff who have identified the specific and unique needs of the children at Burnt Tree Primary School.
"What do you remember from when you were in primary school?" "What made it memorable?"
The answers to these questions centred around real experiences, theme days, fun activities, trips and practical activities. We decided that if we want our learning to be memorable then we need a curriculum that is exciting, real, themed and practical every day. From this we looked at what we want our curriculum to deliver and what qualities we want to develop in our children to give them the best possible start in their future lives. Using these ideas we created the vision for our curriculum. We call these our drivers and they are embedded throughout the school environment, in classrooms and in teachers' planning. They help to drive and shape the curriculum.
We want to share these drivers with you and we want you to talk to your children about them. We have carried out lots of work in school recently on these drivers and what they mean to the children here at Burnt Tree and we hope they will be able to take to you about them and how they are significant in their classrooms every day.
To find out more about our curriculum drivers, please click the link below: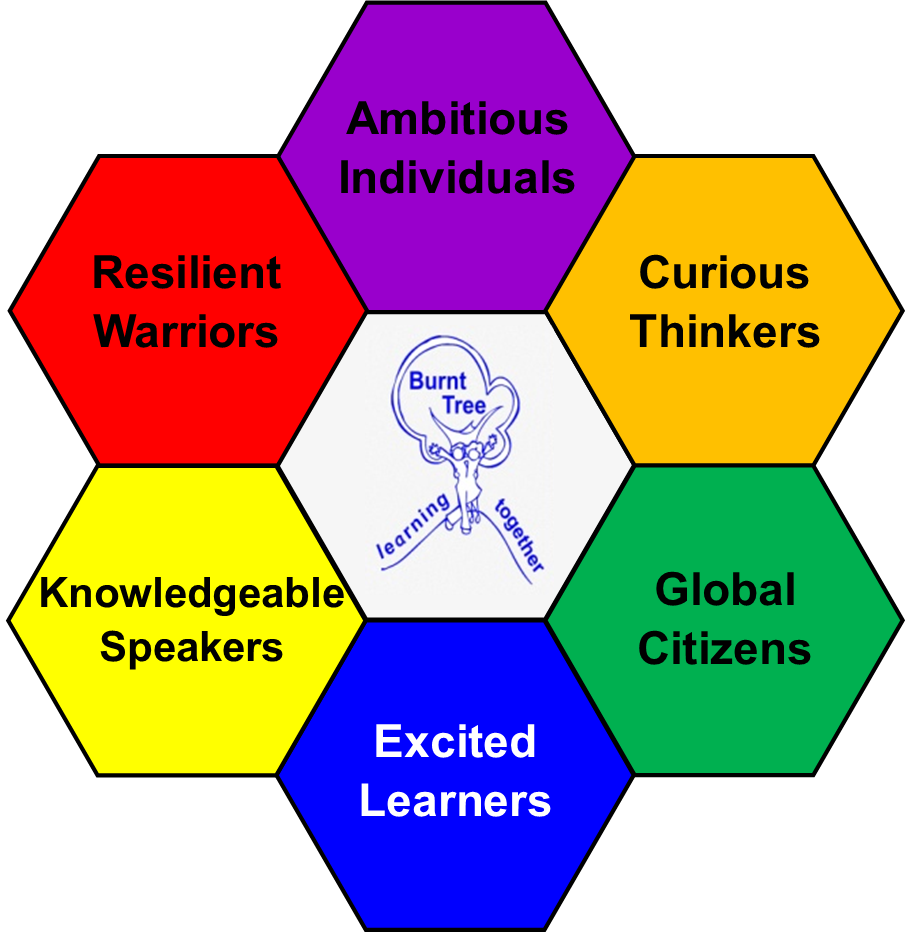 At Burnt Tree we aspire to …
Provide quality lifelong learning experiences across all subjects and areas.
Cover a broad and balanced range of subjects which are suitable for all pupils in a meaningful and purposeful way through inspiring themes and topics.
Provide cross curricular learning experiences centred round skills and structured towards real purposes or outcomes that involve parents, carers and the wider school community.
Plan and deliver frequent opportunities based on the application of reading, writing and maths for challenging learning which is exciting, engaging and fun and includes visitors, visits, enrichment activities and enterprise events.
Ensure that all of our children reach their potential, have respect for people of different faiths and cultures and are suitably equipped for their future lives in this community of Britain.